Your Journey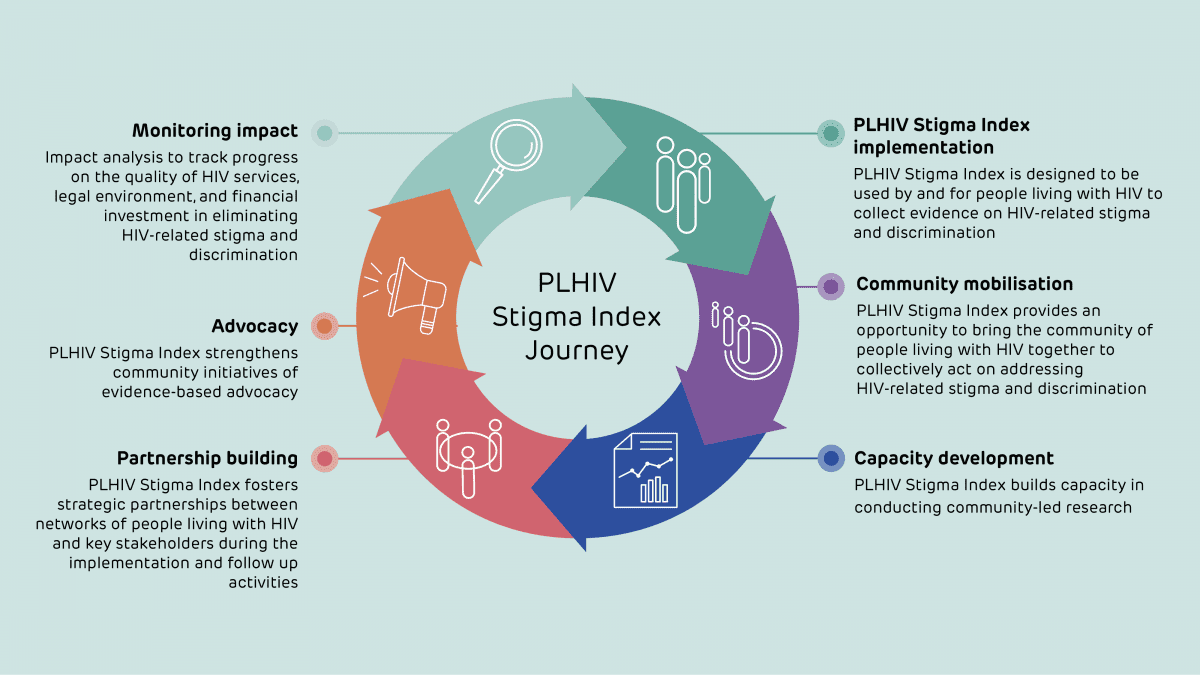 The PLHIV Stigma Index journey starts with familiarising yourself with the journey map and the implementation process.
The PLHIV Stigma Index is a continuous and systematic journey of activism to address HIV-related stigma and discrimination
PLHIV Stigma Index Implementation Phases
The implementation process has been divided into six main phases: preparation, research protocol development, preparation for data collection, data analysis and reporting, and advocacy.
The phases are most likely to be completed in the order as portrayed in the figure below, but it is possible to work on several steps at the same time, or to follow a slightly different order. Also, some of the steps towards the end of the guidelines need to be kept in mind at the beginning of the process to make sure they are included in the workplan and budget. For example, some idea of the advocacy strategy is needed to include it in the budget and ensure that there is enough money to pay for this essential part of the process.
See more details on the implementation phases in our Library >
Technical assistance
The PLHIV Stigma Index is managed by the International Partnership, consisting of the Global Network of People Living with HIV (GNP+), the International Community of Women Living with HIV (ICW), and the Joint United Nations Programme on HIV/AIDS (UNAIDS), with support from Johns Hopkins University (JHU). The International Partnership provides overall coordination of PLHIV Stigma Index globally and provides technical assistance to country implementers.
GNP+, on behalf of the International Partnership of the PLHIV Stigma Index, coordinates the provision of technical assistance to the leading PLHIV network to lead the implementation in all stages of the process, and work closely with national stakeholders, including Ministries of Health, National AIDS authorities, National Key Population Networks, AIDS service organizations, academia, donor agencies and international development partners. This includes technical assistance with the initial planning, research protocol development, ethical approval, the training of interviewers, data collection, storage, and analysis, report development, and the development of an evidence-based advocacy plan.
How to join
All PLHIV Stigma Index implementations must be led by people living with HIV. Are you (part of) a PLHIV network interested in implementing the PLHIV Stigma Index in your country? Please complete the intake form and submit this to plhivstigmaindex@gnpplus.net.