Our Team
The GNP+ PLHIV Stigma Index team provides overall coordination of the PLHIV Stigma Index program globally and provides technical assistance to country implementers.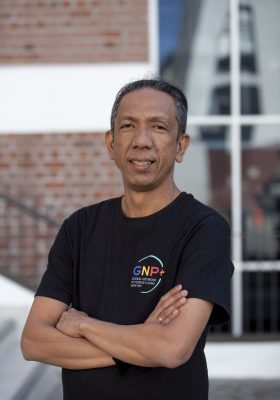 Omar Syarif
PLHIV Stigma Index Program Manager
Omar Syarif is an HIV activist from Indonesia. His journey to fight the AIDS epidemic started when he joined a local PLHIV support group in 2005. Soon after, he left his career in the hospitality industry and to work full time as an outreach worker for people who use drugs in Jakarta. In 2008, he joined the Indonesian PLHIV network as resource mobilization manager and then national coordinator, where he actively represented the PLHIV community in various national as well as regional platforms. Prior to his current tenure with the Global Network of PLHIV, Omar worked for the Asia Pacific Network of PLHIV (APN+) in Bangkok, Thailand from 2013 – 2017 as Capacity Development Program Manager. Omar is currently based in the Netherlands with his family and leads the PLHIV Stigma Index team in GNP+.
Pim Looze
PLHIV Stigma Index Senior Program Officer
Pim Looze is a passionate young HIV activist. She has been involved in the HIV movement since the age of 12, together with her mother who is living with HIV and one of the founding members of ICW. Pim holds a Masters' degree in Child Development from the University of Amsterdam. Since 2018 she has been working at GNP+ as the PLHIV Stigma Index Program Officer and is based in her hometown Amsterdam. Together with her colleagues, she coordinates the PLHIV Stigma Index globally and provides technical assistance to country teams throughout the process of implementation.
Katarzyna Lalak
PLHIV Stigma Index Research Officer
Katarzyna Lalak is the PLHIV Stigma Index Research Officer at GNP+. Before joining GNP+, Katarzyna worked in different entities: private sector companies, international and local NGOs focusing on maternal and child mortality, HIV /AIDS programming and wider health system strengthening. Katarzyna's HIV/AIDS activism started as an undergraduate student with research on child mortality in Senegal and led her to work on HIV prevention programs in Morocco (with UNAIDS and Frontline AIDS). Katarzyna lived and worked in Senegal and Morocco, but her passion for languages (Spanish, Polish, French, English) allowed her to work on HIV responses in Bolivia, Nigeria, Ukraine, Vietnam, and the MENA region. Currently pursuing a Master's in Public Health, in her free time Katarzyna loves reading Middle Eastern authors' books, international cinema and exploring countryside in West Sussex, UK.
Jean de Dieu Anoubissi
PLHIV Stigma Index Research Officer
Jean de Dieu Anoubissi is a public health researcher from Cameroon. His involvement in the fight against HIV began in 2012 when he held the position of the head of the monitoring and evaluation unit at the National Aids Control Committee in Cameroon. After 5 years in this position, he was appointed head of the HIV research and surveillance unit. In this position, he coordinated numerous studies on HIV, and in 2022, he joined the GNP+ team as a PLHIV Stigma Index Research Officer.