Meet the PLHIV Stigma Index Academy Participants from LAC region!
27 October 2022
Anthony Guerrero (Ecuador)
Anthony is a human rights activist and writer. He is a member of the Ecuadorian Network of Positive Youth since 2016 and is currently the national coordinator. Since 2017, he has been a national representative of the regional network Jóvenes Positivos LAC (J+LAC). His work as an activist and writer has been focused on changing paradigms about people living with HIV, through training, awareness-raising, and his writings. He has also led training processes to stop gender-based violence against the LGBTIQ+ population and women, through work on non-hegemonic masculinities with young people.
Activista por los derechos humanos y escritor. Miembro de la Red Ecuatoriana de Jóvenes Positivos desde el 2016 y actual coordinador nacional. Desde el 2017, ha estado vinculado como representante nacional de la red regional Jóvenes Positivos LAC (J+LAC). Su trabajo tanto como activista y escritor ha estado abocado a cambiar los paradigmas sobre las personas con VIH, a través de procesos de formación, sensibilización y creación literaria. También ha liderado procesos de formación para frenar la violencia basada en género contra la población LGBTIQ+ y mujeres, a través del trabajo en masculinidades no hegemónicas con jóvenes.
Bessy Diaz (El Salvador)
Bessy is the national REDCA+ focal point for zone 1 in El Salvador and secretary of the board of the REDCA+ association. She has been living with advanced HIV for 15 years and is a volunteer activist in the Central American network of people living with HIV. She has been a consultant for the project "promoting better living conditions and human rights for people living with HIV and other key populations" through differentiated and better-resourced comprehensive services to support sustainability and engagement, which add value to the HIV response in El Salvador. She was an interviewer for the PLHIV Stigma Index study in 2019, implemented by ADS and Asociación Vida Nueva. She also has experience in M&E and fieldwork with REDCA+ as a peer counselor. She represents REDCA+ in the therapeutic sub-commission of CONAVIH and the HIV sub-commission in the workplace of CONAVIH.

Es punto focal nacional de la REDCA+ de la zona 1 en El Salvador y secretaria de la junta directiva de la asociación REDCA+. Tiene 15 años de vivir con VIH avanzado y es voluntaria activista en la red centroamericana de personas con VIH. Ha sido consultora del proyecto "promoviendo mejores condiciones de vida y derechos humanos de las personas con VIH y otras poblacionesclave" a través de servicios integrales diferenciados y con mayores recursos para apoyar la sostenibilidad y compromiso las cuales añaden valor a la respuesta al VIH en El Salvador. Fue encuestadora en el estudio Índice de Estigma en el año 2019, ejecutado por ADS y Asociación Vida Nueva y experiencia en el área de monitoreo trabajo de campo con REDCA+ consejera de pares. Representa a REDCA+ en la subcomisión terapéutica del CONAVIH y de la subcomisión de VIH en el ámbito laboral del CONAVIH.
Bryan Rodriguez (Nicaragua)
Bryan Néstor Xavier Rodríguez Hurtado is Nicaraguan. He is a positive young man since 2014. He has a bachelor's degree in Psychology, which has allowed him to contribute to the mental health care of people living with HIV. Trained as a facilitator for group and individual sessions (reflective sessions, support groups, personal growth groups) with people in contexts of greater vulnerability. He is currently pursuing his second bachelor's degree in Legal Sciences; from this other field, he aims to advocate for the human rights of people living with HIV. Bryan is interested in contributing to academic research related to HIV from the axes of his interests (Sociology, Anthropology, Legal and Political Sociology).
Bryan Néstor Xavier Rodríguez Hurtado es nicaragüense. Joven positivo desde 2014. Es licenciado en Psicología, lo que le ha permitido contribuir a la atención de la salud mental de las personas que viven con VIH. Formado como facilitador de sesiones grupales e individuales (sesiones reflexivas, grupos de apoyo, grupos de crecimiento personal) con personas en contextos de mayor vulnerabilidad. Actualmente cursa su segunda licenciatura en Ciencias Jurídicas; desde este otro campo, pretende abogar por los derechos humanos de las personas que viven con el VIH. Interesado en contribuir a la investigación académica relacionada con el VIH desde los ejes de sus intereses (Sociología, Antropología, Sociología Jurídica y Política).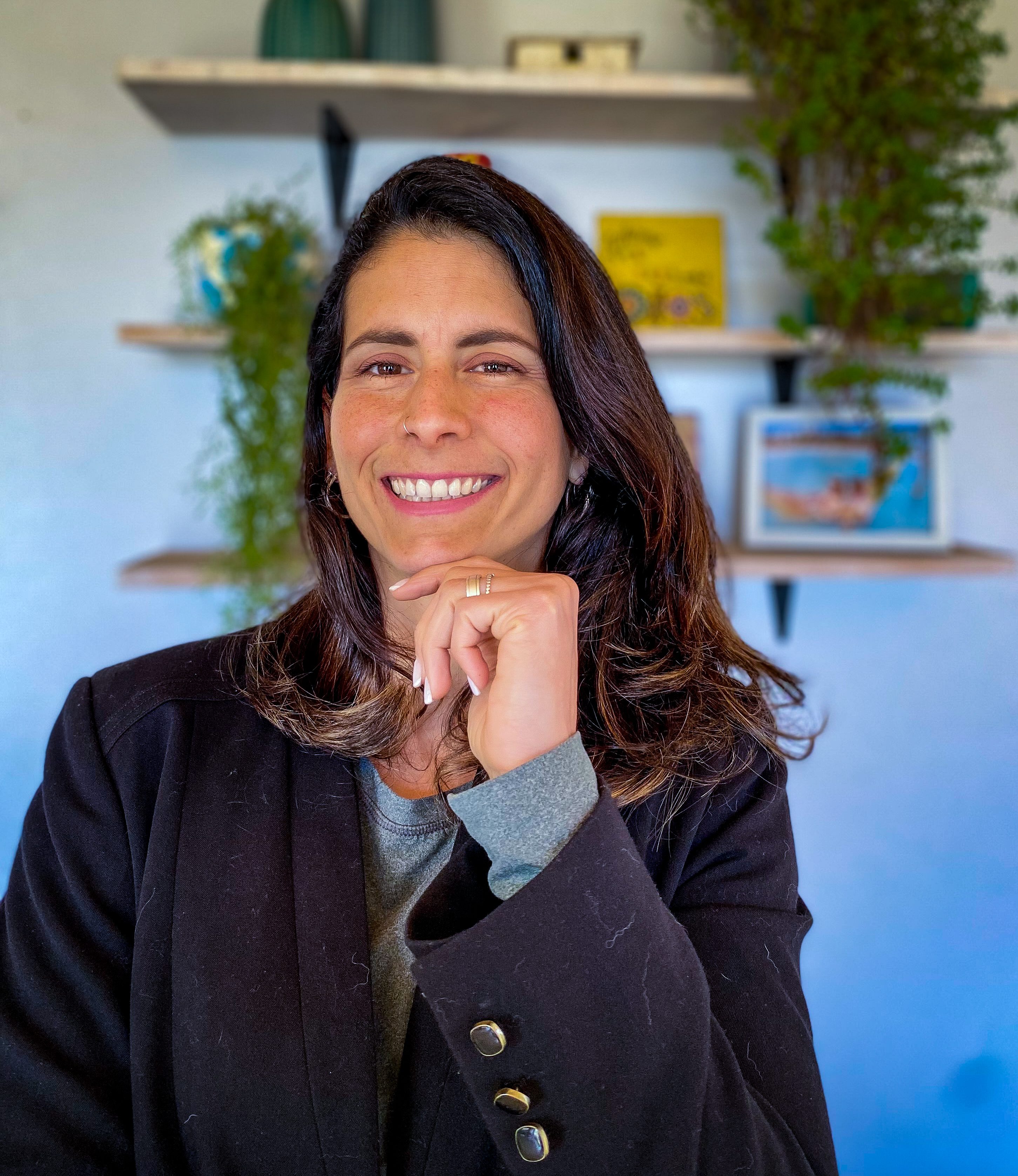 Carla Farias (Chile)
Carla is Brazilian and has been living with HIV since 2014. From there she reinvented her lifestyle and moved to Chile. She started her activism through social networks, becoming a visible woman living with HIV, giving a face and a voice to the epidemic. She is currently the director of gender and non-discrimination at Fundación Circulo de Apoyo Positivo, where, through peer groups, they generate a network of support and protection for PLHIV. She is also part of ICW – Chile and they are working to manage resources to implement PLHIV Stigma Index 2.0 in Chile.
Es brasileña y vive con VIH desde el 2014, desde ahí reinventó su estilo de vida, mudándose a Chile. Empezó el activismo desde las redes sociales tornándose en una mujer que vive con VIH visible, dando un rostro y una voz a la epidemia. Actualmente es directora de género y no discriminación en Fundación Circulo de Apoyo Positivo, donde, a través de grupos de pares, generan una red de apoyo y contención para las PVVIH. También es parte de ICW – Chile y están en el trabajo de gestionar recursos para implementar el Índice de Estigma de las PVV 2.0 en Chile.
Cristian Caamaño Chacón (Costa Rica)
Cristian is a professional in Administration, a leader, and a promoter of human rights. He has worked in the representation of national and international advocacy spaces as an educator, accompanying people newly diagnosed with HIV in their process of acceptance, adherence, and integral health in Costa Rica. He advocates for people's rights and the elimination of stigma and discrimination toward people living with HIV. He believes that his experience at the Stigma Index Academy was extremely important, especially because of the struggle and the importance of the data to demand more and better access to quality health care in Costa Rica and in the region.
Profesional en Administración, líder y promotor de los derechos humanos. Ha trabajado en la representación de espacios de incidencia política nacional e internacional como educador, acompañando a personas con nuevo diagnóstico de VIH en su proceso de aceptación, adherencia y salud integral en Costa Rica. Aboga por los derechos de las personas, la eliminación del estigma y la discriminación que existe por ser una persona viviendo con VIH. Considera que su experiencia en la Academia del Índice de Estigma fue de suma importancia, sobre todo por la lucha y la importancia de los datos para solicitar mayores y mejores accesos a la salud de calidad en Costa Rica y la región.
Damaris Grinan (Cuba)
Damaris was born on 17 July 1966 in Guantánamo, Cuba. She is a graduate of higher education and is trained as a health promoter and popular educator, and has a diploma in hygiene and epidemiology, health promotion, and communication in quality of learning. She has participated in different national and international courses, among them is the PLHIV Stigma Index Academy. Other activities related to HIV have been the creation and organization of spaces for dialogue, consultation, and socialization in civil society and state organizations, highlighting her active participation in the defense of the human rights of people living with HIV, with an emphasis on women with HIV, promoting the formulation of actions and improvements in their quality of life and respect.
Nació el 17 de julio de 1966 en Guantánamo, Cuba. Graduada de la educación superior. Formada como promotora de salud, educadora popular, diplomada en higiene y epidemiología, promoción de salud y comunicación en calidad del aprendizaje. Ha participado en diferentes cursos nacionales e internacionales, entre ellos el referido a la Academia de Índice de Estigma de las PVV. Otras actividades relacionadas con el VIH, han sido la creación, organización de espacios de diálogo concertación, socialización en organizaciones de la sociedad civil y también del Estado, destacando la participación activa en la defensa de los derechos humanos de las PVV con énfasis en las mujeres con VIH propiciando la formulación de acciones y mejoras en su calidad de vida y el respeto.
Federico Villalba (Argentina)
Federico Emanuel Villalba (Feda) has been working for the Argentina Network of Positive Youth and Adolescents (RAJAP) since 2017 and is currently one of the National Coordinators. In addition, they are an advanced student of sociology and law. He has devotedly worked to assist peers by lending his technical knowledge to the service of everyday support of HIV+ youth. Moreover, he has encouraged the network to broaden and venture more into research, building bridges between basic sciences and advocacy by reinforcing capacity-building opportunities. From 2019 to 2021, they were in charge of implementing the PLHIV Stigma Index 2.0 in Argentina; the first time that a network of young people living with HIV carried out this study. They represented the RAJAP at the 2022 AIDS Conference in Montreal in a Q&A session about their experience with the PLHIV Stigma Index implementation. Finally, they have been part of the last UPR cycle done in Argentina as a civil organization stakeholder to provide information about youth and HIV human rights coverage.
Federico Emanuel Villalba (Feda) trabaja en la Red Argentina de Jóvenes y Adolescentes Positivos (RAJAP) desde el 2017, siendo actualmente uno de los Coordinadores Nacionales. Además, es estudiante avanzado de sociología y derecho. Ha trabajado con dedicación en la asistencia a los pares prestando sus conocimientos técnicos al servicio de la contención cotidiana de los jóvenes con VIH. Además, ha animado a la red a ampliarse y aventurarse aún más en la investigación, tendiendo puentes entre las ciencias básicas y la promoción reforzando las oportunidades de creación de capacidades. De 2019 a 2021, fue la red líder en implementar el Índice de Estigma 2.0 de PVVS en Argentina, siendo la primera vez que una red de jóvenes que viven con VIH lidera este estudio. Representó a la RAJAP en la Conferencia Mundial de SIDA 2022 en Montreal en una sesión de preguntas y respuestas sobre nuestra experiencia en la implementación del Índice de Estigma. Finalmente, ha formado parte del último ciclo del EPU realizado en Argentina como parte interesada de la organización civil para aportar información sobre la cobertura de los derechos humanos de jóvenes y VIH.
Felicia Araujo (Dominican Republic)
Felicia has been advocating for 27 years in response to the vulnerability people are left in after a positive HIV diagnosis. She is a founding member of the National Front of Independent Activists and Counsellors (FRENACI). Her work includes being a peer counselor, monitoring antiretroviral adherence, responsible for Drug Supply Statistics, trainer of Multipliers/UNESCO, creating prevention with Street Theatre, and being part of the Dominican Red Cross. With FRENACI, she worked to conduct a survey that measured drug shortages in her country (UNDP and UNAIDS). She has participated in the two implementations of the PLHIV Stigma Index in the Dominican Republic, first as an interviewer and then as a field supervisor.
Tiene 27 años haciendo incidencia política ante la vulnerabilidad en que quedan las personas después de un diagnóstico positivo al VIH. Es miembro fundador del Frente Nacional de Activistas y Consejeros Independientes (FRENACI). Entre sus roles de trabajo se encuentra ser consejera de pares, hacer seguimiento a la adherencia de los antirretrovirales, responsable de llevar las Estadísticas de Insumos de Medicamentos, formadora de Multiplicadores/UNESCO, crear prevención con Teatro Callejero, y ser parte de la Cruz Roja Dominicana. Con FRENACI, trabajó para conducir la encuesta que midió el desabastecimiento de medicamentos en su país (PNUD y ONUSIDA). Ha participado en las dos implementación del Índice de Estigma en la República Dominicana primero como encuestadora y después como supervisora de campo.
Gabriel Gommeck (Paraguay)
Gabriel is a systems analyst, programmer, and LGBTIQ+ expert who seeks to strengthen the care and health of his community by producing, creating and sharing relevant information about human rights with an emphasis on advocacy to create change for minority groups. He collaborated with GayLatino (network) and Somosgay (Paraguay) on research, projects, and implementation of public health policies for HIV and other STIs. He has experience participating in collaborative and participatory spaces of gay and bisexual men's communities in the CCM (Country Coordinating Mechanism) of the Global Fund on prevention, detection, and treatment programs.
Analista de sistemas, programador y maricólogo que busca fortalecer el cuidado y la salud de su comunidad produciendo, creando y compartiendo información relevante acerca de derechos humanos con énfasis en incidencia política para generar cambios para grupos minoritarios. Colaboró en GayLatino (red) y en Somosgay (Paraguay) en la parte de investigación, proyectos e implementación de políticas de salud pública para VIH y otras ITS. Tiene experiencia participando en espacios colaborativos y participativos de comunidades de hombres gays y bisexuales en el MCP (Mecanismo de coordinación país) del Fondo Mundial con programas de prevención, detección y tratamiento.
Hilda Esquivel (Mexico)
Hilda has been an activist for 25 years, recognized at state and national levels, implementing strategies for vulnerable groups and empowerment. With experience forming and leading teams in fieldwork, peer-to-peer work focused on improving the quality of life of people, trained in the development of skills and personal skills with emphasis on women with HIV. Her field of work includes being a founder of El Roble Self Support Group (since 1998), gender director of FRENPAVIH (1999), Founder of the first group for women in Nuevo Leon (1999), founder and promoter of the first National Network by and for Women with HIV in Mexico – Mexicanas Positivas Frente a la Vida (2000), national coordinator of ICW-Mexico (2002), board member of ICW-Global (2022) and regional director ICW-Latina (2022).
Es activista desde hace 25 años, reconocida a nivel estatal y nacional, implementando estrategias en grupos vulnerables y empoderamiento. Con trayectoria formando y liderando equipos de trabajo en campo, trabajo entre pares enfocados en mejorar la calidad de vida de las personas, formadora de equipos en entrenamiento y desarrollo de habilidades y capacidades personales con énfasis en mujeres con VIH. Su campo de trabajo incluye: Fundadora del Grupo de Autoapoyo El Roble desde 1998, Directora de género FRENPAVIH (1999), Fundadora del primer grupo para mujeres en Nuevo Leon (1999), Fundadora e impulsora de la Primera Red Nacional desde y para Mujeres con VIH en México Mexicanas Positivas Frente a la Vida (2000), Referente Nacional de ICW-México (2002), Miembro de la junta directiva de la ICW-GLOBAL. (2022) y Directora Regional ICW-LATINA (2022).
Linder Zenteno (Bolivia)
Linder is a teacher by profession. He was a technician in the Human Rights area of the Team for Alternative Communication with Women (Equipo de Comunicación Alternativa con Mujeres; ECAM) for 6 years, implementing projects for the prevention of patriarchal violence aimed at young men and women. In collaboration with ECAM, he carried out a study on HIV/AIDS in Tarija and the Right to Life in 2014; since then, he has collaborated as a popular communicator on content about HIV/AIDS and PLHIV in publications of the magazine Mi Barrio Observa in the city of Tarija. In 2019 he worked on a study on the "Situation of Human Rights Violated in health, education and work, in people living with HIV in the city of Tarija". In 2022 he participated as an interviewer for the PLHIV Stigma Index 2.0 in three Bolivian cities: Tarija, Sucre, and Montero.
Es profesor de profesión. Fue técnico del área de Derechos Humanos del Equipo de Comunicación Alternativa con Mujeres (ECAM) durante 6 años ejecutando proyectos de prevención de la violencia machista dirigida a jóvenes hombres y mujeres. En colaboración con ECAM, realizó el Estudio de aproximación del VIH/Sida en Tarija y el Derecho a la Vida en el año 2014; desde ese momento realizó colaboraciones como Comunicador Popular en contenido sobre VIH/SIDA y las PVVS en publicaciones de la revista mi Barrio Observa de la ciudad de Tarija. En el 2019 trabajó en el estudio sobre la "Situación de los Derechos Humanos vulnerados en salud, educación y trabajo, en personas viviendo con VIH en la ciudad de Tarija", en el 2022 participó como encuestador del Índice de Estigma 2.0 en tres ciudades de Bolivia: Tarija, Sucre y Montero.
Lucas Nuñez (Chile)
Lucas Núñez Saavedra is a designer, visual artist, researcher, and non-binary activist. They participate in the Circle of Students Living with HIV (CEVVIH) as Communications and Design Coordinator; they work as a designer for the Latin American and Caribbean Positive Youth Network J+LAC, and are also in charge of Marketing for AHF in Chile. Their main areas of interest are grief processes, the socialization of pain, and the impact of media representations and discourses about HIV/AIDS on the emotionality of people living with HIV.
Lucas Núñez Saavedra es une diseñadore, artista visual, investigadore y activista no binarie. Participa del Círculo de Estudiantes que Viven con VIH (CEVVIH) como Coordinadore de Comunicaciones y Diseño; trabaja como Diseñadore de la Red de jóvenes positives de América Latina y el Caribe Hispano J+LAC, y además es Encargade de Marketing de AHF en Chile. Sus principales áreas de interés son los procesos de duelo, la socialización del dolor, y la repercusión de las representaciones mediáticas y discursos sobre el VIH/sida en la emocionalidad de personas que viven con VIH.
Maria Teresa Martinez (Nicaragua)
Maria Teresa was diagnosed with HIV at the age of 27, she is the national coordinator of ICW Nicaragua, advocating for resources for women with HIV at local and national levels, with a primary focus on the response to the COVID-19 pandemic in 2020 and 2022, such as food security, hygiene materials, prevention, and housing improvements. They managed to create the first savings cooperative with female entrepreneurs where people benefited from seed grants. In 2022, she was part of the country coordinating team for the PLHIV Stigma Index 2.0 in the first phase.
Diagnosticada con VIH a los 27 años, ha trabajado en la coordinación de ICW Nicaragua realizando gestiones de recursos para las mujeres con VIH a nivel local y nacional, dando un enfoque primordial a la respuesta de la pandemia del COVID-19 en el 2020 y 2022 como seguridad alimentaria,materiales de higiene, prevención y mejoras de viviendas. Lograron formar la primera cooperativa de ahorro con un grupo mujeres emprendedoras donde se benefició a personas con capital semilla. En el año 2022, fue parte del equipo coordinador de país para el Índice de Estigma 2.0 en la primera fase.
Marilú Blanco Carranza (Costa Rica)
Marilú is a woman living with HIV for 23 years. During that time she learned that life goes on and she became a great leader. At ICW Costa Rica she is a trainer, counselor, and secretary; she is also vice president of the CCM in Costa Rica. She recognizes the importance of collecting data to understand the reality that people living with HIV face. The actions created from the study can create empathy and work to increase the quality of life.
Es una mujer con 23 años viviendo con VIH. Durante ese tiempo aprendió que la vida sigue, convirtiéndose en una gran líder. En ICW Costa Rica es formadora, consejera y secretaria; también es vicepresidenta del MCP en Costa Rica. Reconoce la importancia de recopilar datos para conocer la realidad que vivimos las personas con VIH. Las acciones creadas del estudio pueden crear empatía y trabajar para aumentar la calidad de vida.
Martin Negrete (Paraguay)
Martin is a psychologist and Master's in Public Health. He is the executive director of the Vencer Foundation, the first organization of people living with HIV in Paraguay, and was the national coordinator of the PLHIV Stigma Index 2.0 in Paraguay in 2016 and 2022. He is currently the regional coordinator of the PLHIV Stigma Index 2.0 for Bolivia, Peru, Ecuador, and Nicaragua. Martin is also a researcher and university lecturer.
Psicólogo y Máster en Salud Pública. Director Ejecutivo de la Fundación Vencer, primera organización de personas con VIH en Paraguay. Coordinador Nacional del Índice de Estigma de las PVV 2.0 de Paraguay del 2016 y del 2022. Coordinador Regional del Índice de Estigma de las PVV 2.0 para Bolivia, Perú, Ecuador y Nicaragua. Investigador y docente universitario.
Pablo Anamaria (Peru)
Pablo was diagnosed with HIV in 1992. Since then he has been involved in networks of PLHIV such as the Pan American Association of PLHIV (1992), Redla+ (1998), ITPC (2003), and in the formation of the Peruvian Movement of PLHIV. In 2006, together with AID FOR AIDS, he created the "Latin Observatory" to monitor Global Fund processes, and in 2016 he coordinated the first PLHIV Stigma Index in Peru. He is currently part of the coordination of the National Networking Committee of the Alianza Liderazgo en Positivo (ALEP).
Fue diagnosticado con VIH en 1992, desde ese año ha estado involucrado en redes de personas con VIH como la Asociación Panamericana de Personas con VIH (1992), Redla+ (1998), ITPC (2003), y en la formación del Movimiento Peruano de personas con VIH. En el 2006, creando con AID FOR AIDS el "Observatorio Latino" para hacer seguimiento a los procesos del Fondo Mundial, y en 2016 coordinó el primer Índice de Estigma de las PVV. Actualmente forma parte de la coordinación del Comité Nacional de Redes de la Alianza Liderazgo en Positivo (ALEP).
Rosa Gonzalez (Honduras)
Rosa is a researcher, consultant, feminist, and writer with 22 years of experience in the human rights of key populations and populations vulnerable to HIV. Her expertise is on the prevention and attention to violence against women, and the sexual and reproductive rights of women with HIV. She has a strong background in advocacy, multi-sectoral coordination, and community work. She had the opportunity to implement the PLHIV Stigma Index in 2015 and use its data to include stigma reduction actions in the Five Year Human Rights Plan, which Honduras is currently implementing (2018-2022).
Investigadora, consultora, feminista, escritora, con 22 años de experiencia en derechos humanos de las poblaciones clave y poblaciones vulnerables ante el VIH. Su énfasis es en la prevención y atención de violencia contra las mujeres, los derechos sexuales y derechos reproductivos de las mujeres con VIH. Cuenta con fuerte trabajo en incidencia política, coordinación multisectorial y trabajo comunitario. Tuvo la oportunidad de implementar el Índice de Estigma de las PVV en el 2015 y usar sus datos para lograr incluir acciones de disminución del estigma en el Plan Quinquenal de DDHH, que Honduras está actualmente implementando (2018-2022).
Ruben Aguirre (Mexico)
Ruben was diagnosed with HIV at the age of 16 in 2012. He has worked in civil society organizations since then, focusing on community work with youth. He is currently the national coordinator of the Mexican Network of Positive Youth and Adolescents (J+Mex) and a student of International Relations at the University of Guadalajara. He co-coordinates the PLHIV Stigma Index in Mexico together with the International Community of Women Living with HIV-AIDS (ICW).
Recibió su diagnóstico de VIH a los 16 años en 2012. Ha trabajado en organizaciones de la sociedad civil desde entonces, especialmente enfocado a trabajo comunitario con juventudes. Actualmente es coordinador nacional de la Red Mexicana de Jóvenes y Adolescentes Positivos (J+Mex) y estudiante de la Licenciatura en Relaciones Internacionales por la Universidad de Guadalajara. Co-coordina el Índice de Estigma de las PVV en México junto con la Comunidad internacional de Mujeres viviendo con VIH-Sida (ICW).
Sofia Carbajal (Honduras)
Sofia Carbajal Inestroza is a trans-feminist and positive woman of thirty years old, a defender of the human rights of LGTBIQ+ people and people with HIV with special emphasis on positive youth in Honduras. She is currently part of the Network of Positive Youth and Adolescents of Latin America and the Hispanic Caribbean (J+LAC), carrying out advocacy work in Honduras with the aim of achieving positive changes in public policies in favor of populations vulnerable to HIV. She is committed to the HIV response at national and regional level and to reducing the high levels of stigma and discrimination against people living with HIV.
Sofia Carbajal Inestroza, Mujer Trans-Feminista y positiva; treinta años de edad, Defensora de los Derechos Humanos de las personas LGTBIQ+ y de las personas con VIH con especial énfasis en la juventud positiva de Honduras. Actualmente forma parte de la Red de Jóvenes y Adolescentes positivos de América Latina y del Caribe Hispano (J+LAC), realizando acciones de Incidencia Política en Honduras con el fin de lograr cambios positivos en las políticas públicas a favor de las poblaciones en condición de vulnerabilidad frente al VIH. Comprometida con la respuesta al VIH a nivel nacional y regional y lograr reducir los altos índices de estigma y discriminacion en contra de las personas con VIH.
Virginia Hilaquita (Bolivia)
Virginia is from La Paz Bolivia, has been living with HIV for more than 17 years, and is a leading activist in the defense of the human rights of people living with HIV. She is currently president of the National Network of People with HIV and AIDS in Bolivia (REDBOL), recognized under HIV Law 3729. After her diagnosis, she studied psychology at UMSA, stressing the importance of gender equity and the greater involvement of women in decision-making. In 2022 she was an interviewer for the PLHIV Stigma Index 2.0 with the aim of having a tool for political and social advocacy.
Virginia Hilaquita Soto de La Paz Bolivia, tiene más de 17 años con VIH, es líder activista en la defensa de los derechos humanos de las personas con VIH. Actualmente Presidenta de la Red Nacional de Personas con VIH y sida en Bolivia (REDBOL), reconocida en la Ley 3729 de VIH. Después del diagnóstico estudió Psicología en UMSA, resalta la importancia de la equidad de género y el mayor involucramiento de las mujeres en la toma de decisiones. En el 2022 fue encuestadora del Índice de Estigma de las PVV 2.0 con el objetivo de contar con un instrumento para realizar incidencia política y social.